Savor the Summit has been an annual tradition for six years in Park City and this year will be no different. On June 21, historic Main Street will be turned into a dining hall full of hungry people waiting to enjoy some of their city's finest cuisine. A table that spans nearly two thousand feet and seats over fifteen hundred people will be sitting directly in the center of the road while oncoming traffic is re-routed.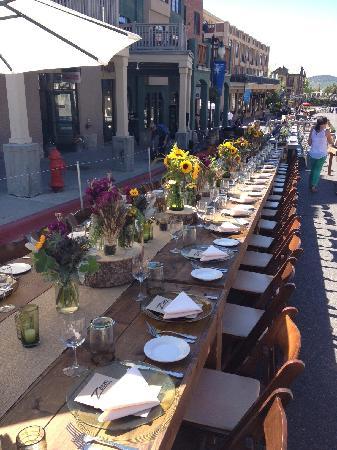 Photo Credit goes to TripAdvisor Management
Dinner starts promptly at 6:00PM, but if you opt out of the dining experience there is still plenty to be done. Main street will be shut down to vehicles and an open arena for pedestrians during the hours of 4:00PM to 10:00 PM. During these times, there will be live music playing from a variety of different local artists and all of the main street businesses will be open for people to peruse.
Savor the Summit gives local restaurants the opportunity to showcase their summer menus and also give the participants a chance to try something they never would have. This event has sold out the past two years so if you are interested in participating make sure to reserve a seat as soon as possible. Reservations are made per restaurant and prices vary. You may make a reservation through any of the restaurants by clicking here.
Written by LeeAnn Bellnap
Staff Writer, iParkCity®